ITEM: SCP-007 AKA: NIGHTMARE MOON STATUE Class: KETER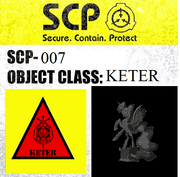 Note
SCP RELOCATED TO Stable 13 by the order of P1.
Description:
SCP-007 is a statue of the evil alicorn deity "Nightmare Moon" (see document M4R3-1N-7H3-M00N).
Why was this statue Recovered?
Someponies say that when Nightmare Moon was defeated by [RETRACTED] and her friends by [RETRACTED], the evil spirit that possessed Princess [RETRACTED] was forced out of her and made to inhabit this statue.
Strange reports heard by our agent in [RETRACTED] heard about these pony tales and went to investigate.
He found SCP-007 and it gave him the "heebeey jeebies" and said "It looks like it's staring into my soul"
MTF "Stone Movers" were deployed to [RETRACTED] and move SCP-007 to site ## for storage.
Containment Procedures
NOPONY IS TO ENTER SCP-007's CONTAINER AT ANYTIME!
DANGER!
'SCP-007 MUST NOT COME IN CONTACT WITH SCP-N1GH7M4R3-M00N AT ANY COST UNLESS YOU WANT TO START AN XNeigh end-of-world scenario!
If they are united and they are unseperated before they find Princess [RETRACTED], you can kiss the daylight and maybe the WORLD GOODBYE!