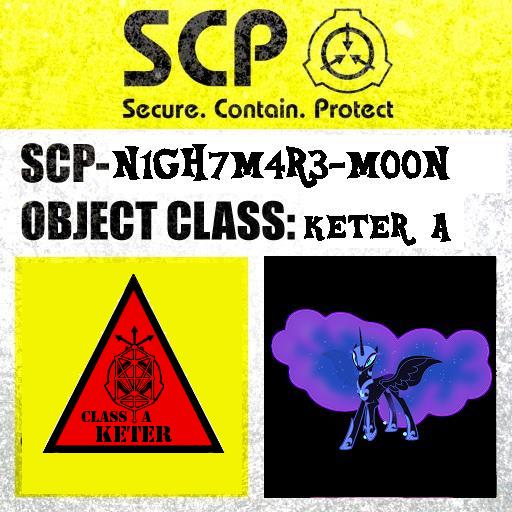 Class: KETER Class A
Site: Stable 13
Description
Edit
SCP-N1GH7M4R3-M00N is possessed armor belonging to an evil Alicorn deity called "Nightmare Moon".
The jealousy of Princess [RETRACTED] imbued this armor with it's own "Personality".
Effect on Princess [RETRACTED]Edit
When she was Nightmare Moon, this armor's personality overrode Princess [RETRACTED]'s and made her to not lower the moon for her sister Princess [RETRACTED].
Princess [RETRACTED] defeated Nightmare Moon and banished her in the moon for 1000 years.
When Nightmare Moon got defeated by [RETRACTED]
Edit
1000 years later, Nightmare Moon was defeated by [RETRACTED] and her friends using [RETRACTED].
The armor was partly destroyed by [RETRACTED]'s magical colored beam and the armor's spirit was broken in to two.
One half of the spirit remained in the armour and the other half was forced into SCP-007 (currently stored at [DATA CORRUPTED]].
Containment Procedures
Edit
Item has been transferred to Stable 13. No SCP Containment Procedures required.
The old procedures have been kept for archive
Edit
Why was it moved?Edit
This SCP used be stored at ## vault at [RETRACTED], but the pull of the SCP's "Personality" was driving Princess [RETRACTED] to put the armor back on and become Nightmare Moon again.
So what was done about it?Edit
SCP-N1GH7M4R3-M00N is to be kept in vault ## at site ## for safe containment and the safety of Princess [RETRACTED] and Equestria.
THIS MUST NOT COME IN CONTACT WITH SCP-007 AT ANY COST UNLESS YOU WANT TO START AN XNeigh end-of-world scenario!
If they are united and they are unseparated before they find Princess [RETRACTED], you can kiss the daylight and maybe the WORLD GOODBYE!
AddendumsEdit
1- Flank kicked!
Edit
Nightmare Moon got her flank seriously kicked by ponies younger than her! What a [RETRACTED]! - Agent [RETRACTED]
-Who authorized this Addendum? - Torchwood 5
-Not me - Wiki Admin
2- Incident [Redacted]
Edit
During Incident [REDACTED] the current SCP-N1GH7M4R3-M00N-1 used [REDACTED] to make copies of SCP-N1GH7M4R3-M00N now classed SCP-N1GH7M4R3-M00N-A and tried to get other personnel to wear it.
This SCP-N1GHTM4R3-M00N-1 was captured and his behavior corrected by Proceedure D4Y13R34K and the copies (SCP-N1GH7M4R3-M00N-A) are now being studied at Site N1GH7M4R3-M00N.
Sub Versions of the SCP
Edit